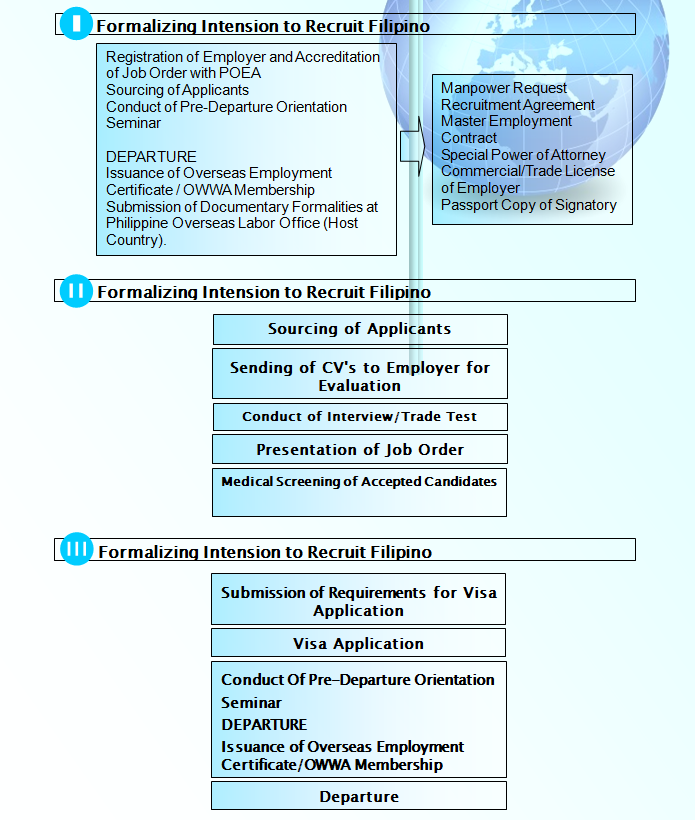 From the start of recruitment to final deployment
The following services are performed to pave the way for the smooth and successful recruitment process to take place.
Conduct Manpower Search, and On-Site Recruitment, organized job fairs and advertisement placements, etc, and Internet on line postings for selected job vacancies.

Pre-select candidates for short-listing
Administer tests (if required); conduct personal interviews for individual assessment.

Evaluate and verify credentials and documentary submissions such as employment certification, transcript of records, etc.

Prepare candidate for interview with employer and/or its representative.

Conduct trade test, if necessary, from leading private testing companies recognized and accredited by Philippine government body.

Arrange the conduct of medical and laboratory tests to determine health and fitness level of candidate.

Assist selected workers in the compliance of documents required for visa and other purposes.

Facilitate visa issuance from host country through employer for selected candidates.

Provide Pre-Departure Orientation Seminar (PDOS) assistance.

Coordinate with principal airline booking of selected worker.

Airport departure assistance.